Since 2015, we have stored our vehicles in various locations, each with less-than-ideal settings.
Our most recent space, which we have used for around three years, was where we had three cars squeezed into a double garage. That created challenges for drivers having to position cars in a particular way to allow them to fit! However, this space looked like it was going to change hands and we needed to find somewhere else. Our van already had to be stored elsewhere. The Malvern Community Patrol (MCP) also had to find another place for their vehicle as they were on the same site we were on. So it was a joint venture to find somewhere for all five vehicles.
Now, we are so pleased to have a reasonably permanent solution, thanks to Selwyn District Council. It has taken about three years of emailing, phone calls and negotiations to reach agreement on this new leased space (owned by Selwyn Council). There were issues to be resolved with another lessee, which took time to be negotiated. Then the sheds that we were being offered, needed to be enclosed for security, and we needed funds to do that. Over the time taken to resolve all the hiccups, prices increased due to covid and supply chain issues, so we needed more money than first anticipated! But we applied to the Westview Special Fund (owned by Selwyn Council) and were granted most of what we needed. So four spaces are for the MCVT (Malvern Community Vehicle Trust) van and three cars, and the fifth space is for the MCP vehicle.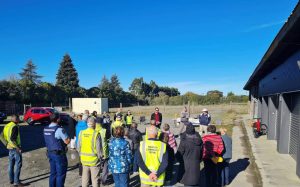 We had an opening ceremony on May 28th, with the Mayor Sam Broughton (pictured in the red and black, centre facing the camera) opening the garage doors, followed by a morning tea.
Over the years as we have become more well known, our patronage has slowly increased. In the year to March 2020, we carried 840 people over a combined distance of 50,775 kms. Then covid and lockdowns started. The following year to March 2021 saw 362 people carried for 24,320kms — showing our patronage more than halved. To March 2022 we have carried 538 people over 34,449kms, so things are picking up again.
We continue to be very grateful to our volunteer drivers — around 15–18 depending on health, holidays and other commitments.
Our community wants you to know
Without you we just couldn't go
To WINZ or the Doc
The hospital or shops
You're important for running the show.