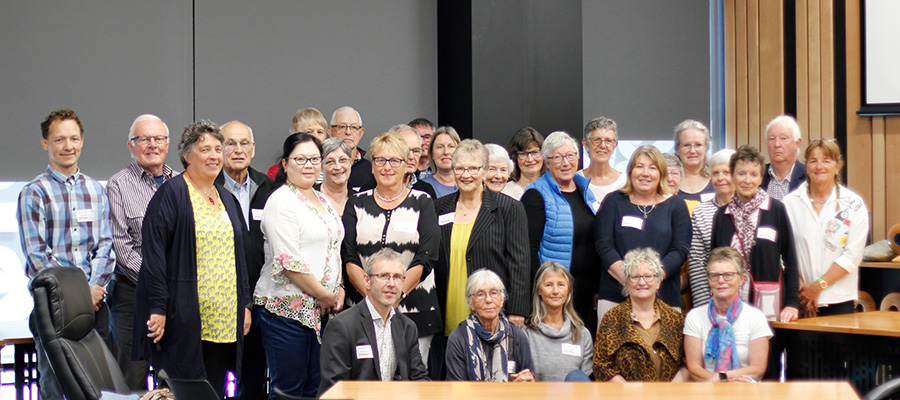 Community Vehicle Trust (CVT) volunteers from all over Canterbury came together in late January to kōrero about the year that was, and the year that is.
CVT provides a transport option for residents in areas outside of the urban public transport network.
The annual networking event provides a chance for all CVT volunteers to meet, share, and discuss ideas and good practice from the previous twelve months, plus plans for the upcoming year.
Volunteers value CVT kōrero
North Canterbury CVT Chair Don Fairbrother says the annual meetings are valuable to keep up to date with other Trust's activities.
"We value the discussion and suggestions from other Trusts. When possible, all of our trustee's endeavour to attend," he said.
Malvern volunteer Virginia Askin also thinks the event is "seriously worthwhile."
"Hearing stories which benefit us all – stories that help newbies avoid pitfalls.
"Sharing data, trust deeds, business plans, loaning vehicles for trial periods -so many benefits. Oversight. Experience. Legal issues that we need to understand, I love the networking event," she said.
Top-notch service for those who need it
Environment Canterbury public transport community engagement advisor Isabelle Bromham said she's incredibly proud of the work that the CVT volunteers have achieved over the last 12 months, especially given challenges with COVID-19.
"As a group, we're proud that we were able to push through the roadblocks, so to speak, and continue to deliver a high-quality service to our customers," she said.
"From 2019-2020, our volunteers had more than 23,000 passengers and travelled more than 418,000 kilometres throughout Canterbury.
"It's a pretty big feat for all volunteers and totalled over 16,500 hours of their time," she said.
Trends reflect challenging times
Although the figures are lower than in previous years, COVID-19 travel restrictions meant there was less need for people to get places.
Passenger numbers have been tracking upwards since the end of lockdown and CVT volunteers are always looking at how they can extend and improve the service.
Want to get involved?
CVT's throughout the region are always on the lookout for volunteer drivers, car cleaners and trustees. People are encouraged to find out more by visiting the CVT website.
Environment Canterbury provides an annual grant to all Canterbury CVT's as well as staff support.