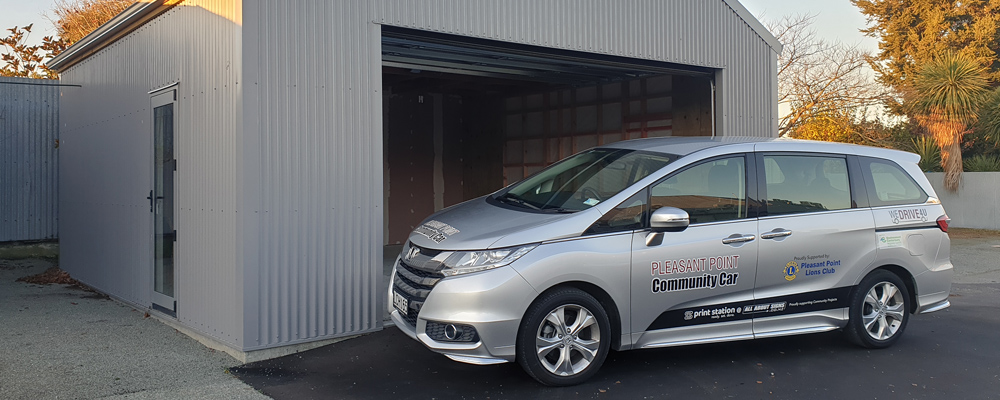 Pleasant Point's community vehicle trust car now has a brand-new home, thanks to the support and generosity of local landowners, the Sinclairs.
Located behind the Pleasant Point Shopping Centre, the new garage was officially opened for business in June 2020. A small opening ceremony was held, hosted by Ian Sinclair, who oversaw the build of the garage, representing his parents and landowners Graham and Helen Sinclair. Members of the Pleasant Point community vehicle trust were in attendance, including trust chair Alister Paul, Jenny Foster, Brendan Milne and Anne Lemmens, along with trust secretary Deanne Milne, Environment Canterbury deputy chair Peter Scott, and John Lemmens.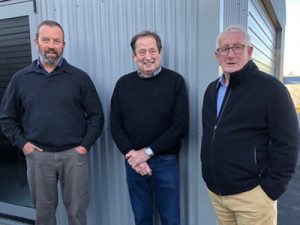 Chair Alister Paul said that the new garage shows a wonderful level of local support for the trust and an understanding of the importance of the service it provides to residents.
"Our community vehicle trust plays an important role in providing transport to many people who don't have access to an urban public transport network, and we rely on support and commitment from many volunteers across the community who help to keep things running smoothly," said Mr Paul.
"A huge thank you to everyone involved in the Pleasant Point community vehicle trust and especially to Mr & Mrs Sinclair for the provision of our new garage."
About the Pleasant Point community vehicle trust
The Pleasant Point community vehicle trust has a car available to transport up to 5 people.
It can be a social outing, shopping trip, appointments for medical or professional services, student transport, Timaru Airport.
The trust is an ACC approved carrier.
Learn more and book your next trip.
Pictured above: L–R: Ian Sinclair, Alister Paul, Peter Scott.
L–R: Brendan Milne, Deanne Milne, Jenny Foster, Anne Lemmens, Ian Sinclair, Alister Paul.